Countertop Options
Countertops are a part of the blueprint in a kitchen or bathroom. Countertops are more than decorative, they serve as a functional part of your home as well. For all of your countertop needs, be sure to visit Wrucks Carpet One Floor & Home in Wasilla, AK. We carry three major types of countertops: granite, Corian, and quartz.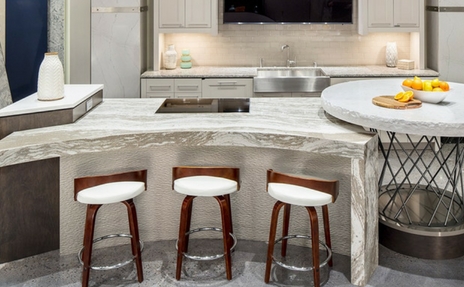 Granite Countertops
Granite countertops are made from 100% granite and nothing else. As a result, these countertops offer rich, natural beauty that will certainly add style to any kitchen or bathroom design. Also, each granite countertop is one-of-a-kind, since there are no two pieces of granite are exactly alike. What does this mean? This means that your new kitchen countertop, and subsequently your kitchen design, is truly unique.
For the most part, the surfaces of granite countertops are smooth and glossy. They remain cool to the touch, and they are difficult to crack. However, the surfaces do need to be sealed to protect against stains, and we do recommend keeping the surfaces clean and free from dirt and dust. Nonetheless, granite continues to be a really popular choice for kitchen countertops.
Corian Countertops
Corian countertops, unlike granite countertops, are not made from natural materials. Rather, Corian is considered an engineered countertop. It still offers similar natural stone looks, but because of the engineered construction, Corian is pretty much impossible to crack. At the same time, scratching is not an issue because the colors and patterns are consistent through the entire Corian slab. In other words, any scratches can be "buffed out" using an appropriate cleaning solution.
Because Corian is specially-constructed and not natural, these countertops do not have the shine and polish you see with granite. This does mean, however, that Corian countertops will never become dull over time. Plus, Corian it resistant to stains and heat without any special treatments. Corian is a great option for kitchen and bathroom countertops.
Quartz Countertops
Why did we save quartz countertops for last? Quartz countertops combine the natural beauty and shine of granite with the durability of Corian. These countertops offer natural looks because they are made almost totally from real quartz. In fact, most quartz countertops are considered over 90% quartz! However, since the rest of the countertop is made from engineered materials, quartz countertops do offer premium strength and resistance.
Furthermore, since quartz countertops are solidified with other materials such as glass, they offer looks that you won't find in nature! So, if you want a unique style but are worried about strength and durability, quartz countertops may be your best option. We carry Pental and Cambria quartz in our showroom.